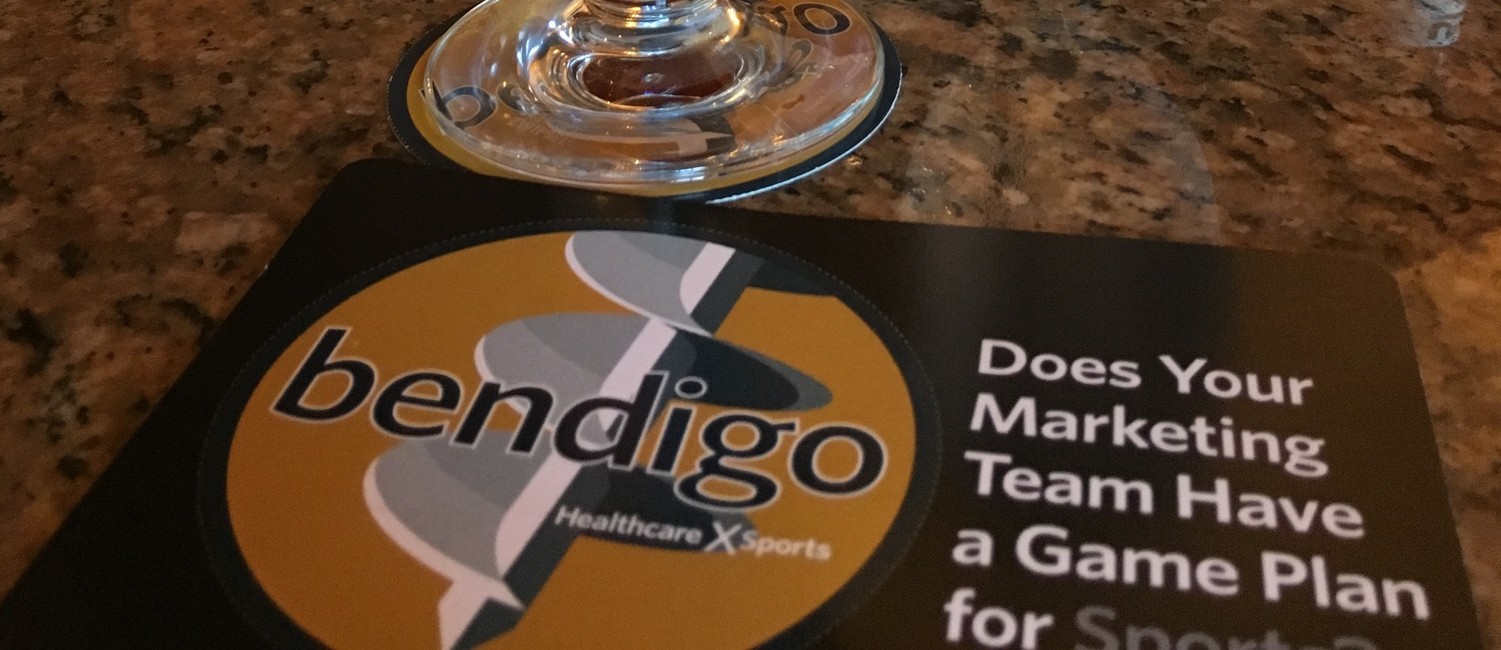 Annual Healthcare Marketing and Physicians Strategies Summit
Bendigo's recently back from the leading healthcare forum in Salt Lake City, the 23rd Annual Healthcare Marketing and Physician Strategies Summit, where we were once again the bag sponsor, had the opportunity to lead a networking luncheon and connected with many wonderful colleagues in the healthcare industry.
Bendigo in American Healthcare Leader
Bendigo saw the need for a research tool dedicated to the convergence of Sports and Healthcare, so they teamed up with Turnkey Intelligence, one of the sports industry's leading research organizations to develop, "Strata".
American Healthcare Leader, a print and digital publication for leading healthcare executives, recently ran a story on Bendigo's Strata Research platform.
Bendigo in Healthcare Strategy Alert
Bendigo had the pleasure of attending and being a product sponsor at the 2017 Healthcare Marketing and Physicians Strategy Summit, held in Austin, TX, this past May. Bendigo was not only the bag sponsor of the event, but was also asked to participate in the Forum's quarterly issue of their Healthcare Strategy Alert publication. Bendigo's CEO, Jeff Sofka, speaks to the best practices for hospitals navigating the world of sports partnerships.
Bendigo in Strategic Healthcare Marketing
Strategic Healthcare Marketing, an online and print news source for health care executives, recently featured Bendigo, CEO, Jeff Sofka, sharing how one hospital supported their community health programs through their fitness and wellness center.
New York Red Bulls Match Day
September is Childhood Cancer Awareness Month and Tackle Kids Cancer partnered with the New York Red Bulls to take over the match versus Philadelphia Union on September 17, 2017. For the opening ceremony, 22 patients, their siblings and friends escorted the players onto the pitch while 3 giant gold "Tackle Kids Cancer" banners were held by patient's family members and Hackensack University Medical Center employees. Dr. Burt Appel from the children's hospital was also present to perform the opening coin toss. Throughout the match, there were gold goalie nets, gold cleats, and the players wore gold patches while stadium staff wore gold "Tackle Kids Cancer" shirts for Childhood Cancer.
Tackle Kids Cancer All Stars Event
In 2016, NY Giants QB Eli manning and Tackle Kids Cancer launched Eli's Challenge, an initiative in which Manning generously matches grassroots donations to TKC up to $100,000. Eli's Challenge energized the local community, motivating hundreds of groups to join the fight. With Manning's $100,000 match, more than $250,000 was raised to advance education, research and discovery in the search for a cure against this life-threatening disease. In 2017, Manning and Tackle Kids Cancer honored its outstanding community group partners at the TKC All Stars Awards Show. Bendigo led event production, and hundreds of TKC fundraisers joined host NBC4's Bruce Beck, Eli Manning, NY Giants Legend Shaun O'Hara, Knicks Legend John Starks, and New York Red Bulls Goalie Luis Robles to celebrate their work.
Eli Manning Co-Wins Prestigious Walter Payton Man of the Year Award
In 2016, Eli Manning became the first Giants player to be honored as the Walter Payton NFL Man of the Year. He was co-awarded this honor alongside Arizona's Larry Fitzgerald. Eli's has been Tackle Kids Cancer's most valuable player form the creation of Eli's Challenge driving community support, to spending time with Hackensack Meridian Health's patients while they are in the hospital. His continued commitment helped raise over 5 million dollars for the organization.
Bendigo and Turnkey Intelligence Team Up to Create New Research Product
As the healthcare industry has been rapidly shifting marketing plans to focus on new media and larger partnerships, non-hospital focused partnerships, the existing tools to evaluate ROI and brand lift for hospitals have lacked up to date tools and metrics to calculate valuable information, like the "transfer of trust" from a pro sports team to a hospital in the mind of consumers.
Struggling to find a proper solution for our clients, we teamed up with Turnkey Intelligence, one of the industry leaders in sponsorship evaluation to develop create Bendigo Strata Powered by Turnkey Intelligence. Strata is a unique tool to evaluate hospital partnership deals. This tool will help hospitals as they emerge into the sports industry, allowing our clients, and other networks optimize and maximize the tangible and intangible assets obtained through these partnerships.
New York Giants, HackensackUMC Foundation Announce Partnership, Create Tackle Kids Cancer
 
The New York Giants are ready to tackle at all times, and so will the kids at the Joseph M. Sanzari building within HackensackUMC. The Giants have partnered with Tackle Kids Cancer to help raise money for pediatric cancer research.